Carmen and Selina Sutherland are easily the most opinionated and well-read young designers you will meet in Nigeria. I know this because I've met both and verbally sparred with Selina; she basically wiped the floor with me. I met them at a photoshoot after LFDW 2014 so I conveniently steered clear of the new collection and discussed other things. A perk of that was that I got to the see pieces from the ROF 2015 collection up close and personal. The Sutherland sisters are one of the few young Nigerian brands who are navigating a duality as people (they run the brand together), heritage and influences (they're multi-ethnic) and business (Republic of Foreigner stocks in New York and Lagos). This duality has always come to play in their collections, particularly the two spring/summer collections they have debuted at the Lagos Fashion and Design Week.
Republic of Foreigner has created a reputation for crafting collections that lean heavily on thematic interpretations, as evinced by their Spring 2014 collection 'Heartstrings'; an airy, voluminous catalog of tie-dyed chiffon and faux silk maxi-dresses and loose sleeveless blousons inspired by Japanese Silk Prints and Nigerian poetry. Their Spring 2015 collection is playfully themed 'Candy Plantation', inspired largely by the people and cultures of the Niger Delta; tapping into the idiosyncrasies that separate the region from the rest of Africa and also the childhood nostalgia for candy, a metaphor for sweetness and summer. These unrelated inspirations were superbly translated in the collection, evident in the colours; vibrant hues of saffron and bronze which bring to mind ripened palm fruit and orange flavored candy, a geometric print that reminded one of oil palm bunches and farm plots and motifs of flora emblazoned on fabric in monochrome and highlighted in fuschia. The colour palette also extended to Black, Cream and Olive sorbets, Coral and Bronze.
The sixteen piece collection continues the trend of voluminous silhouettes from the Heartstrings collection, albeit a little more conservatively; striving for fit as well as comfortability. Candy Plantations also largely abandons the maxi-dresses of the last collection. This collection is sexier as well; slinky black dresses, cut-outs and thigh high slits. The collection stays true to the ROF aesthetic but explores new frontiers. I felt a little disappointed by the dearth of accessories to go with the clothes but not every designer jumps on all the wagons. I disliked the first look of the collection; granted it is only green dress in a collection partly inspired by agriculture but compared what the rest of the collection comprised of, it felt a little like that dress was shown first to take it out of the equation. It could have been a bonus piece dressed up in future ROF editorials, it could have been comfortably left out of the runway show.
Enough grandstanding, let's talk clothes.
Here's what I loved from the collection.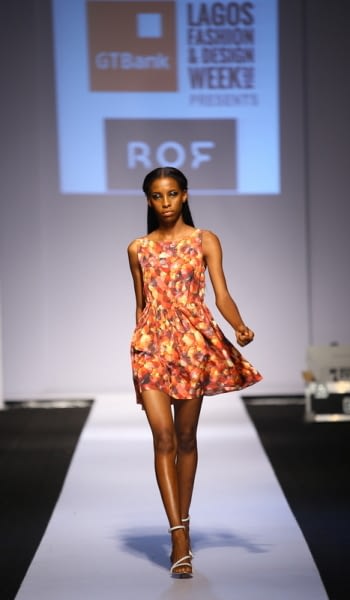 This was hands down my favorite piece of the whole collection. This dress is a dichotomy of innocent and daring.The candy/palm fruit inspired fabric works best in motion and this mini dress plays up it's strengths perfectly. The length reminds me of Giambattista Valli, short enough be one wrong move away from a malfunction but still miles away from trashy. Also the girls manage to cut the skirt in such a way that it remains voluminous without drowning the wearer's silhouette. Not everytime gra-gra, sometimes short and wickedly sweet.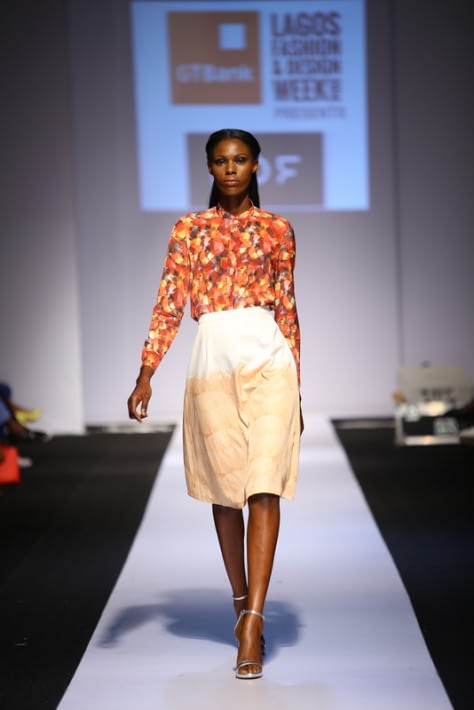 I shouldn't like this fabric, but I do. I like it a lot. I like how it's a unique print, a print that I'd see in a crowd of clothes and instantly recognise it as ROF, and that it's borderline psychedelic. The shirt is clean cut and well tailored, but this pairing, with this dip-dyed skirt is what truly elevates the look. This is how you mix and match colours, and this is how you create a skirt that has a classic silhouette but remains visually and aesthetically interesting.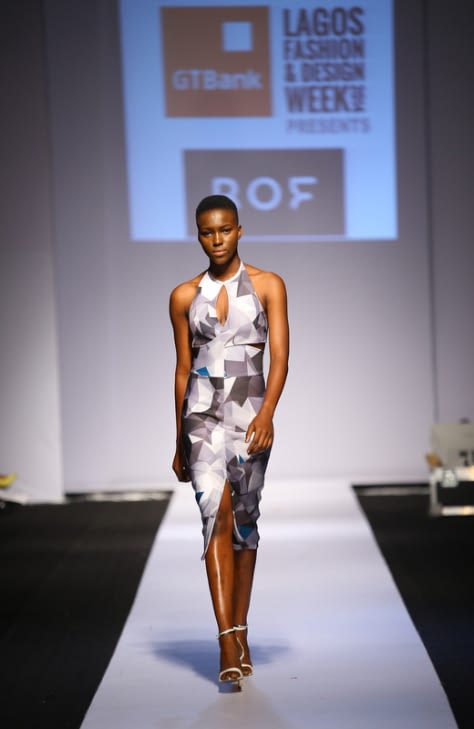 This right here is how to update the halter dress. Slim down all the extra volume, use neoprene so it doesn't crimp, add a keyhole cutout the front of the blouse for just a little more daring, and a front slit so the shrinking violets know to stay away. It's a halter dress of course, so drop your bra at home and show off that gorgeous toned back and just for fun, make it a midi-dress. ROF needs to keep this dress in their retinue and play around with the features for future collections. This dress is could become the new cocktail standard.
This dress gets an honorable mention for it's draping. I saw it on the runway and this dress moved like the sea. It was so flattering on the model that I couldn't stop looking at her while she walked. The draping and movement of the dress added with the motif on the fabric gave the illusion of reeds moving in the wind. Plus added bonus, Its a dress that easily fits two or three dress sizes. A truly versatile dress, this one.
This is what I've dubbed the 'Bond Girl' dress. Made entirely out of silk chiffon with a smattering of inlaid organza panels, the dress literally slinks on the model, moulding itself to flatter her every movement. This is a dress that will flatter most body shapes, is sexy but conservative and is made of materials that subtly but firmly affirm luxury. I wish they'd made them in like seven colours, one for every day of the week.
Here's what I didn't like in the collection.
These 'twin' ensembles are jarring to me. I don't understand them. I get the general idea behind the construction, a loose sleeveless blouse worn over ankle length skirts, the emphasis on the ease of the blouses, foregoing fit for comfort. It is probably the peplum but it doesn't translate. It slims the model's torso into an unflattering column, a silhouette the straight skirts further emphasize. The peplum flares mid-thigh giving the illusion of an overlong torso with sharply flaring, saggy hips. No part of the body is accentuated or emphasized, it just doesn't follow through.
In all, 'Candy Plantation' is a strong thematic offering that throws out the big worded press release and ticks off every lofty idea. A huge yes from me.
To see the full collection go here